There are many dishes, vegetables and fruits unique to Okinawa and the Yaeyama islands. Here I will post some local specialties that you simply have to try to get the full culinary experience from this region.
This is a growing page, thank you for discovering the Ishigaki and the Yaeyama islands with me!
---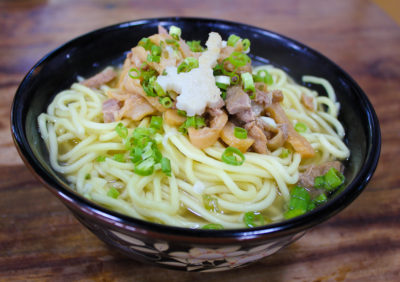 Yaeyama Soba
This hearty noodle soup is one of the standard dishes of Yaeyama. It is traditionally served with strips of pork, green onions, and fish cake. The broth is made from skipjack tuna, pork bone broth and Konbu (seaweed). The taste is quite mild but you can spice it up local style by sprinkling on some Island pepper and adding Awamori-Chili condiment.
The Okinawa soba noodles are very different from the mainland Japanese soba in that they are thicker and made with flour instead of buckwheat. The traditional Yaeyama noodles are round while the once made on Okinawa main island are usually flat.
---