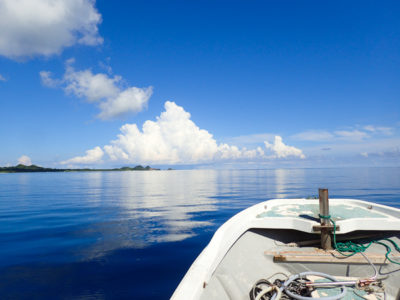 The high season really took off in July!
The Japanese school holidays started at the end of July and I've been busy both at my part time job and at Viking Scuba – super fun, super exhausting. We also had some really fantastic weather this month with the sea looking like one big sparkling mirror every day, up until last week.
For those of you that don't know, high season is also typhoon season. We just had a smaller typhoon pass by close to the island the day before yesterday and we're expecting it to be windy in this week because of another low-pressure system following behind. Hopefully, it won't linger around too long and we can go back to sunny summer weather again!
The good thing about typhoons is that they chill down the water, we're down from 30°C to 28°C which is much better for the corals. With a bit of luck (and another typhoon) we won't have much coral bleaching this year.
I've been doing some preparations for new pages so, fingers crossed, I'll be adding some new pages this month. Of course, I'll also keep you updated about events happening in Ishigaki.
Thanks for stopping by ^_^
//Anna