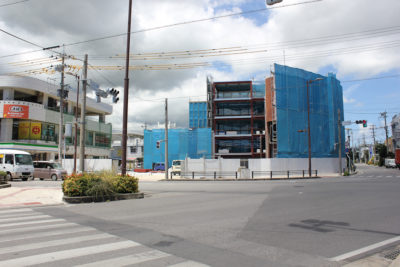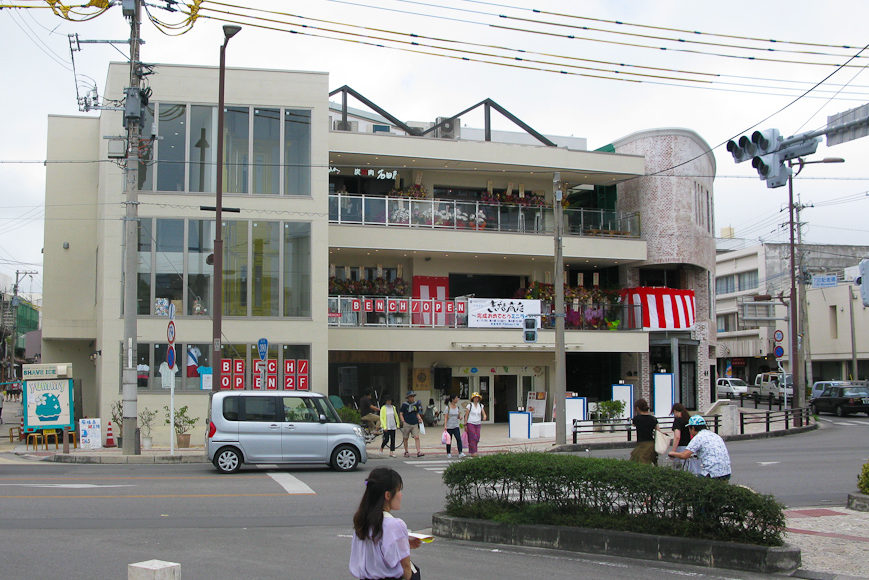 If you haven't been to Ishigaki for a while, you're in for a big surprise at the 730 crossing!
For years, and years, and years in the corner of Ishigaki's most busy crossing was a muddy gravel patch and an abandoned, rugged old building with a broken staircase that finally blew away somewhere in the typhoon season. Frankly, I always thought it was quite sad and well… ugly.
Then they started building last year. The crossing looked like the left picture above for most of that year and for months almost nothing happened, then it became loud and noisy!
Last week, they finally had the official opening ceremony and, quite surprisingly, we've gotten something like a European corner in Ishigaki. There are North Face and Helly Hansen in the right corner, behind is Cacao Market and the building style feels very city like. At the top is a Yakiniku (BBQ) restaurant, the middle has a Philippine brand clothes shop and, if you're skipping Kyoto for this Japan trip, you can still get your Matcha (Green tea) sweets and drinks in the bottom Café. There's also a small accessory shop and a fast food/ice-cream shop in one corner. In the behind building, on the third floor, there is a new hairdresser that also sells organic shampoo, soap and such.
Also, there's a Kakigori (Shaved Ice) cart to the left. If you haven't tried it yet, it's super refreshing in the summertime!
However, we locals still wonder what they gonna do about those awfully big windows when the typhoon season comes.