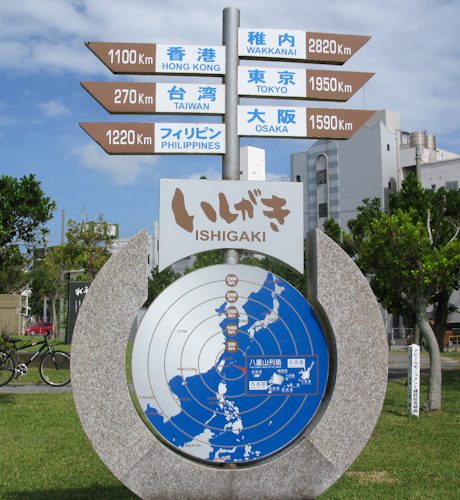 Ishigaki is one of Japan's most southern islands, located 1950km from Tokyo. It is actually closer to Taiwan (270km) than anywhere else in Japan! Since the new airport opened in 2013 there are more flights than ever to the island, both domestic and international. There are no passenger ferry services to Ishigaki, but cruise ships (mostly from Taiwan) stops by frequently.
To get to any of the nearby islands in the Yaeyama archipelago (except Yonaguni) you need to take a flight to Ishigaki and then travel by ferry.
The airport is located on the eastern coast of the island and it takes around 40min by bus to the city center (¥540) and 50min to Kabira (¥700). Buses leave for the city center every 15min from 7:00 to 21:00. A taxi costs about ¥3000 to the city center and ¥4500 to Kabira.
There are also multi-day bus passes available.
Direct flights
It takes about 3hour and 30min to get to Ishigaki from Tokyo, about two hours from Osaka, and about one hour from Okinawa (Naha) or Hong Kong. As of 2017, there are direct daily flights from Tokyo, Osaka,  Naha and Miyako island.
There are also flights from Nagoya, Fukuoka, Yonaguni, Taipei (Taiwan) and Hong Kong (China) on a weekly/seasonal basis.
Tickets
Search engines tend to come up with the strangest prices and flights for Ishigaki so I recommend booking directly from one of the airlines (or at least compare prices.) Below is a list of airlines operating flights to Ishigaki.
ANA flies from Tokyo, Osaka, Okinawa, Nagoya, Fukuoka and Miyako.
JAL flies from Tokyo, Osaka, Okinawa, Miyako and Yonaguni
Peach flies from Osaka
HK Express flies from Hong Kong
China Airlines flies from Taipei, Taiwan
JAL and ANA both offer great discount tickets only available for tourists.
Peach Aviation and HK Express are both low-cost airlines with competitive prices.
You can find an extensive guide to discount tickets in Japan here.
Cruise ships
Sometimes cruise ships (mostly from Taiwan) visit the islands too. If you suddenly find the city center or local supermarket crowded with people, that is usually the reason. A cruise is not a ferry service and will only give you a few hours to experience Ishigaki, way too short if you ask me!
SaveSave
SaveSave