This is one of the most beautiful sightseeing spots in Ishigaki. On a clear day the view is breathtaking! But don't just make a stop at the observation point, why not have a look around?
Black Pear Cultivation
If you take a walk along the path to the right (facing the sea) you will end up at the pearl jewelry shop where they also have some information in English about how the black pearls are cultivated. Kabira bay is one of only two places in Japan where they cultivate black pearls (the other one being Iriomote island.)
Kabira Beach (no swimming!)
Because of the black pearl cultivation in the bay, you cannot go swimming at the beach. But feel free to take off those your shoes and feel the sand between your toes as you take a pleasant walk on the white sand enjoying the tropical scenery. For those who want to have a look below the surface without getting wet there are glass bottom boats departing from around 9:00 to 17:00. You can buy the tickets (which costs about ¥1000) at the shops close by the big car park.
Kabira Kannon Temple
On top of the hill nearby the observation point is a small temple worth a visit. It was
built in the 17th century when Kabira bay was one of the primary ports for Okinawa main island.
According to legend, one day a ship had anchored in the bay while waiting for the weather to clear up. A small boy went ashore while the ship was waiting to do some exploration in the nearby area. When he came back to the shore, the ship had sailed without him! The boy prayed and prayed for the ship to come back. Then, suddenly a strong north wind started blowing. The ship had no choice but to come back to the bay because of the bad weather and the boy could go aboard and return to his home in Okinawa. Later in life the boy, who became a monk ,returned to Ishigaki and built the Kabira Kannon temple.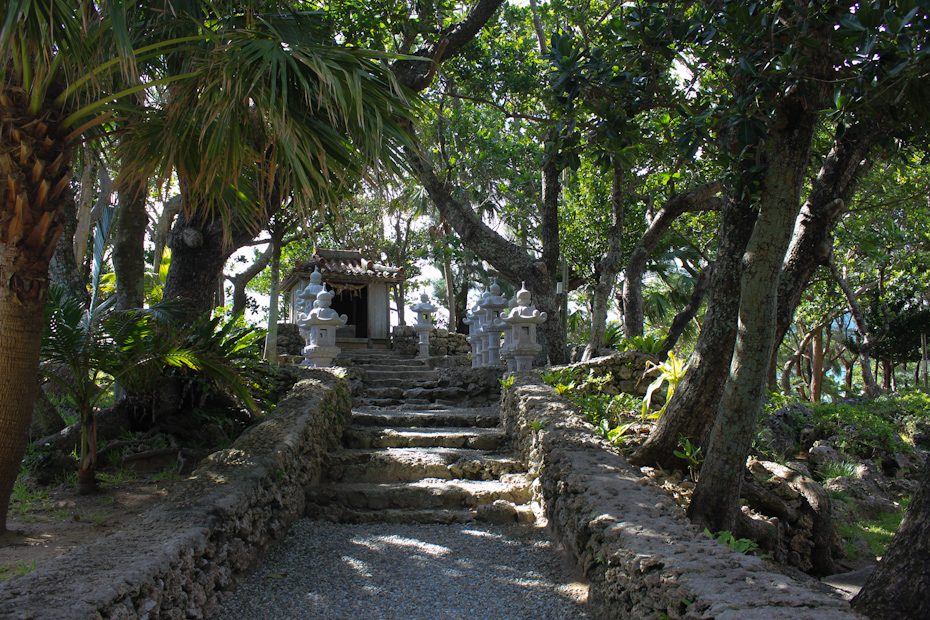 Food, shops, and ATM
You can find many small shops selling souvenirs as well as drinks, food and ice-cream around the large car park close to the bay. An ATM accepting international cards can be found inside the post office which is open from 8:45~17:30 on weekdays, 9:00~12:30 on Saturday (closed on Sunday).
Getting here
Kabira bay is a mere 30 min. drive by car from the city, by buss it takes about 45 min.. You can find bus timetables here (click on "Monday -Sunday" at the top of the timetables to see return times). A taxi will cost around ¥3500 from the city and the bus fare is ¥720 per person (one-way).
SaveSave