Just a 10 minutes ferry ride from Ishigaki, the small island of Taketomi will transport you to another world. Surrounded by coral reefs and white beaches, it is well worth the short day trip or an overnight stay. The island is part of the Iriomote Ishigaki National Park and there are strict building rules to keep the village frozen in time. In fact, it might be the best kept traditional Ryukyu village in Okinawa. There are only about 350 permanent residents on the island but plenty of visitors, especially during summertime.
There are 30 utaki (holy places) across the island which are marked by low stones (which should not be entered).
Visitor Centre
Want to know a bit more about the island and its history, or maybe just grab a map to know where you are going? The Visitor Centre is located close to the port and has information in English as well as free maps.
Getting around
It takes about 15 minutes to walk to Taketomi village from the port. There is a bus going to the town and beach, but you might need to arrange your return trip in advance. You can get free transport to town if you hire a bicycle or ride on a water buffalo cart. In high season, there will be plenty of mini-buses waiting at the port to take you to their shops.
You can get to most of the island's sightseeing points by walk. However, if you wish to visit the Star Sand Beach, I recommend hiring a bike (especially on a hot day!) as the road there is pretty long. Bike rental is around ¥300 an hour or ¥1500 for a full day.
Taketomi Village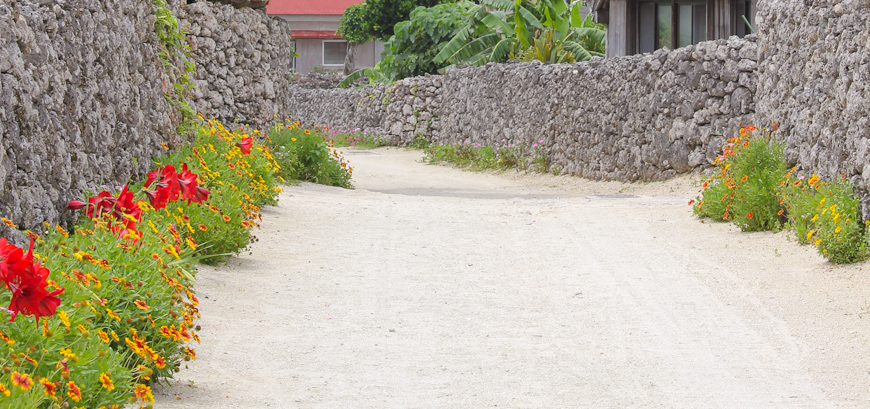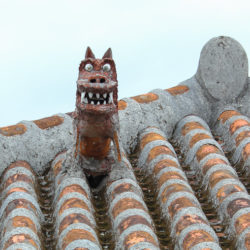 There is nothing that will soothe your heart like a walk on the white sandy paths lined by walls made of volcanic stone and corals.
Looking up, you will see the red clay roofs often decorated with Shisa guardians. The Shisa looks like a cross between a lion and a dog and they protect against evil spirits.
Since there are no restaurants or cafés at the beaches, you might want to fill up your stomach in the village before heading out. It is also a good idea to buy drinks to bring with you since you will get dehydrated quickly on a hot day.
Water Buffalo Carts
For around ¥1200 you can take a ride on one of the water buffalo carts. Walking will probably take you around the village faster — the attraction is in the gently rocking pace of the buffalos. The driver usually plays the Sanshin (three-stringed Okinawan instrument) and sing local island songs.
Other sights inside the village
Nagomi (Observation) Tower is a located in the center of the village. Before you could climb up the steep concrete stairs and enjoy a spectacular view of Taketomi village but it has been closed for some time now. The surrounding garden still makes it a beautiful sightseeing spot.
At Mingeikan (Local Craft Museum) you can see traditional Yaeyama Minsa weaving.
Beaches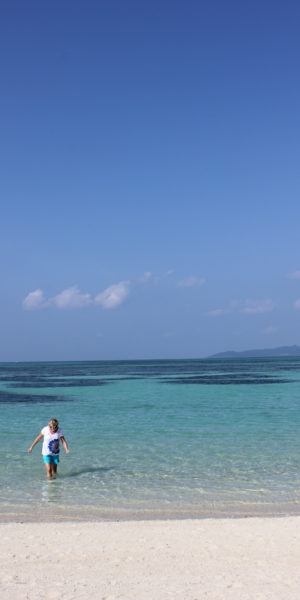 Kaiji beach (Star Sand Beach)
Located on the west coast of the island, this is the more popular of the two star-sand beaches. The star sand is in fact not sand at all but the shell remains of tiny Foraminifera. There is a stall at the beach where you can have a look at the tiny stars through a magnifying glass. You can also buy star sand as a souvenir or try looking for some yourself if you have plenty of time. Please observe that you are not allowed to just bring the normal sand with you.
Besides the allure of finding your own star sand, the beach has a pleasant ocean view that can be comfortably enjoyed in the shade of the trees that line it. Because of the strong currents, you cannot go swimming from this beach.
Kondoi beach
Cool yourself in the serene turquoise water of the bay or relax on the pristine white beach. Kondoi beach is popular for swimming. Although, it is strongly recommended to visit during high tide since it can be very shallow otherwise. If you rent or have your own snorkel, there is plenty of things to see underwater too! The beach is located on the west side of Taketomi and has showers and toilets free of charge. During high season, vendors will rent you mask, snorkels and parasols.
Aiyaruhama beach (Star Sand Beach 2)
Fewer visitors find their way to this beach on the east coast since most other attractions are located on the west side of the island. This is also a no-swimming beach due to strong currents. Compared to the other two, you will have a more quiet surroundings and the same beautiful scenery.
West Pier
Not a beach but another excellent spot to enjoy the ocean view and catch sight of tropical fishes without having to get wet. It is just a short walk from Kondoi Beach.
Getting here
The only way to get to Taketomi island is by ferry. There are regular departures every hour even in low season and the ride is only ten minutes, just make sure not to miss your last ferry. You can buy tickets at the ferry terminal just before departure. If you are visiting in high season, remember that there could be a line at the ticket office so either come extra early or buy the ticket in advance.
Click on the links to get timetables from Anei Kanko and Ishigaki Dream Tours.